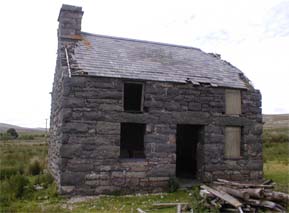 We believe that this cottage situated in Bala, Capel Ceyln, Wales is at least 100 years old. We purchased the cottage in 2002. At the time it was in a dilapidated state and was being used as a sheep shelter!
It has taken us 4 years to complete the total refurbishment and extension to the cottage. We have attempted to keep its traditional Welsh charm, while ensuring that it is comfortable with modern amenities.
The cottage for rent, is a traditional, 3 bedroomed stone cottage (sleeps six), which we have painstakingly converted ourselves. It is situated in a magnificent valley and is surrounded by stunning Welsh hills. We also have views of the Llyn Ceyln reservoir. This Welsh cottage is in an ideal position for exploring the mountain of Snowdon, which is situated close by.
The cottage is ideal for those who want to get away from the hustle and bustle of city life. It is situated in the Welsh hamlet of Capel Ceyln. It is set in 20 acres of land, which is ideal for walking to Bala and has a river at the bottom of the field, to which we have fishing rights. Our family has enjoyed many a happy hour here and we hope you do to. The town of Bala is 6 miles away with shops, supermarket and leisure facilities.